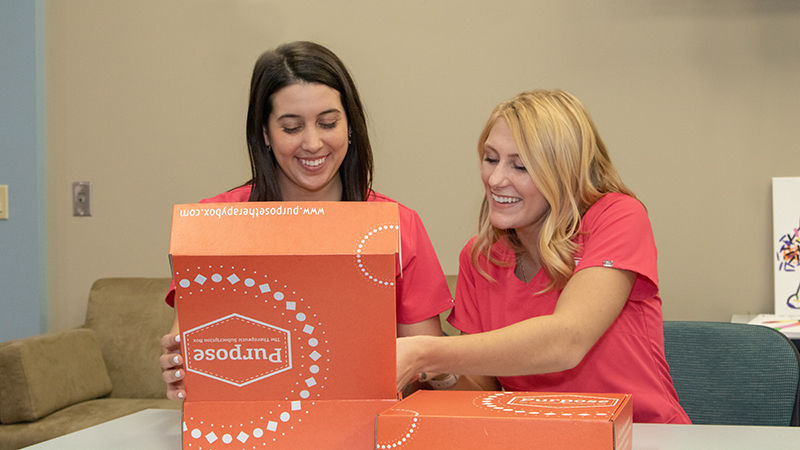 When you first meet Penn State Shenango alumnae and business owners, Ali Izzo and Holly Masters, you immediately notice their similar, quiet demeanor. There is a sense of calm competence that surrounds these young women, who are now working occupational therapy assistants (OTAs) and new entrepreneurs as founders of Purpose — The Therapeutic Subscription Box, LLC. But what is not as obvious, and even somewhat masked by their confident poise, is their unrelenting drive and exceptional work ethic, as well as their deep caring and compassion for the elderly.
These strong skills and attributes, along with their love for what they are doing, have led the pair to their current path as contestants in the Inc.U competition to be held on Saturday, April 6, at the conclusion of Penn State's Startup Week. Inc.U is hosted by the Penn State Pennsylvania Technical Assistance Program, a.k.a., PennTAP.
In February, Izzo and Masters were notified that they were chosen as one of six Penn State undergraduate student (or recent alumni) companies from more than 25 teams who submitted business video pitches to the Inc.U competition and they would be competing to win a portion of the $30,000 prize to jump-start their company, as well as to earn a spot on Penn State WPSU's television show "The Investment." The women will present their business, Purpose, to a panel of distinguished entrepreneurial judges, (Shark Tank-style), who will provide cash awards to those companies who they deem most ready to advance their products and services.
"I am so proud of Ali and Holly," said Georgia Macris, lecturer in business and coordinator of the campus' VenturePointe incubator. "They are so deserving of this opportunity and recognition. These young women have what it takes to be successful entrepreneurs. They have combined their personalities, work ethic and passion, as well as their education and experience, to truly develop their capabilities. This has all translated into a business model that provides unique value to both the purchaser and to the recipient."
Since being notified of their acceptance, the Shenango alumnae have been preparing for their pitch by working with the Invent Penn State innovation team at the University Park campus, as well as reviewing the last several seasons of WPSU's "The Investment."
"In some ways, we have been preparing for this type of contest since we began over 18 months ago," said Izzo. "We've had the opportunity to pitch Purpose so many times to administrators and staff at local nursing homes, as well as in front of the Penn State Shenango community, so it's not that we are totally confident in our pitch, but we are completely confident in our product."
Master's continued, "We believe we have a good product and know there is a real need for our business. It is important that we convey that message and make a great pitch to the judges, so we have been working hard to come up with that 'wow' factor. It's been helpful working with staff at Invent Penn State. Everyone there, as well as at the Shenango campus have been very supportive."
The women came up with their business idea in 2017 while completing their occupational therapy assistant clinical rotations at local nursing homes. The two friends were aware of the loneliness many of the residents seemed to feel, so they came up with the idea of creating special gift boxes that family members could send to their parents and grandparents throughout the year to stay connected.
"Once we had the idea, we seriously started to consider creating our business after we had compiled some actual data, which we received from the residents at various nursing homes," said Masters. "Through our research, we found that there really was a need for our product."
From an idea to a business, and from working with Penn State faculty and the VenturePointe incubator staff to working with the Penn State Invent team, Izzo and Masters have come a long way in a short amount of time. Since their first shipment of Purpose boxes went out in August 2018, the two have continued to evolve their product over the past year. On Christmas Eve 2018, the women hand delivered more than 35 boxes to two local nursing homes as part of their new "Sponsor Senior Program." And, on Veteran's Day, they delivered 15 boxes to veterans at St. Paul's Home in Greenville, Pennsylvania.
"As we grow our business, we continue to discover ways that we can reach those in need," said Izzo. "We discovered there were a lot of people who liked what we are doing but didn't know someone who would benefit from our product, so we decided to give people an opportunity to support other seniors who may not have relatives who are engaged. We started the senior program at Christmas, working with the nursing home social workers and administrators, with plans to continue the Sponsor Senior Program at other holidays and with our regular quarterly subscription boxes."
In addition to being chosen as one of six contestants to pitch their business idea on April 6, Izzo and Masters will be recognized at the National Conference of The American Occupational Therapy Association for their innovative work, where Amy Lamb, president of The American Occupational Therapy Association, will be presenting a two-minute video of these women's business during her presidential opening address. The annual conference will be held in April in New Orleans.
In conjunction with Penn State's Startup Week, which is being held across the Penn State Commonwealth Campus system during the week of April 1-5, the Shenango campus will host its own business competition, "What's Your Big Idea? Challenge." The challenge was initiated by the campus' VenturePointe Incubator Committee to engage students in thinking about developing strong entrepreneurial traits and a skill set that is transferable throughout their lives and careers, not just for those students who are pursuing business, but in any degree program. Out of 19 submissions, three Shenango students will pitch their business idea through a two minute video, which will be shown daily in the Great Hall from 12:15 to 1:15 p.m., during Penn State Startup Week
"Our local competition, 'What's Your Big Idea? Challenge' is a great way for our students to be made aware of all of the opportunities at our Penn State Shenango 'think tank incubator,'" said Macris. "VenturePointe is a place for anyone who wants to pursue an idea that will help solve a problem in a new, better or different way. And, it is through the Invent Penn State initiative that students are given access to professional guidance and expertise to guide them through the process, like Ali and Holly."
PennTap's Inc.U
Inc.U began in 2015 as a pilot program funded by a grant from the Pennsylvania Department of Community and Economic Development. It was originally a collaborative effort between the University of Pittsburgh at Johnstown, Bucknell University, and Penn State to foster undergraduate entrepreneurship. Each of the three university partners worked in their local areas to support and grow programs for this initiative.
Starting in 2016, the Penn State Inc.U competition, managed by PennTAP, has evolved to become a Penn State program partially funded by a five-year grant from the U.S. Economic Development Administration (USEDA) in partnership with Invent Penn State and their entrepreneurial assistance centers. Part of the USEDA grant funds the development of "The Investment," a student competition where Penn State student start-ups go head-to-head to win significant investment dollars for their companies.