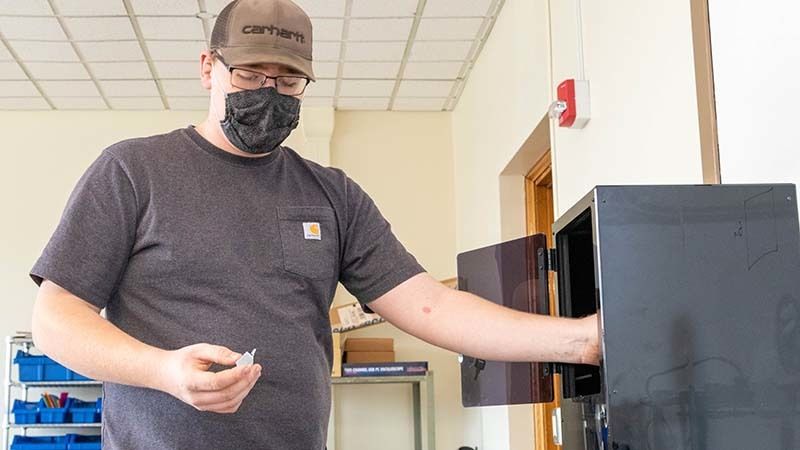 SHARON Pa. — Dan Foust, a second-year biological engineering student at Penn State Shenango, will be taking his first steps towards a career in the agriculture field as he starts an internship with the United States Department of Agriculture (USDA) in June.  
"This summer I'm going to Lebanon, Pennsylvania, to participate in the USDA's Pathways Program for three months," said Foust, a Stoneboro, Pennsylvania native. The Pathways Programs provide students opportunities to explore USDA careers in such fields as agriculture, science, technology, math, environment, management, business and many others. Foust will gain hands-on experience that will utilize his knowledge of both engineering and agriculture.  
"I've always known that I want to do something with agriculture and I've been exploring options since my senior project in high school, where I went on volunteer farm visits," said Foust. "This helped me learn about programming offered to farmers through the USDA. It's a great program that helps both the environment and farmers."  
Foust said he is eager to learn more about farming techniques like rotational grazing systems for cattle and engineering eco-friendly ways to manage water runoff.
"Really, I ultimately want to become a USDA engineer. This internship is ultimately what I want to be doing after college," said Foust.
Foust's degree in biological engineering will help get him there, he said: "Penn State's biological engineering program has students select an area of focus. Mine is the 'natural resource engineering' option that focuses on agriculture and preserving the environment."  
As a second-year student in Penn State's 2+2 program, Foust is wrapping up his time at the Shenango campus and preparing to transition to the University Park campus to complete his degree.  
"Starting at Shenango was the perfect option for me," said Foust. "Class sizes are smaller here, which is really nice when I've had questions. You don't have to go to office hours — you can ask for help in class and get an immediate answer. It's really helped me to understand the course material better, get to know my classmates and save money.
"I've been involved with engineering-focused research here at Shenango that I've really enjoyed, so I can't wait to see what I can get involved with at University Park — hopefully agriculture research!" added Foust.
Assistant Teaching Professor of Engineering Matthew Caputo agreed that Foust's proactive involvement in the research community has served as a launching pad for future opportunities.
"Dan has worked with me as an undergraduate researcher for two years, which has enabled him to present at a conference later this year and participate in a research article that will be prepared this summer," said Caputo.
At Penn State Shenango, engineering students have the opportunity to complete research using a sophisticated tool called a scanning electron microscope (SEM) that scans an object with a focused beam of electrons to create a detailed digital image of the surface — an opportunity not usually afforded to students until graduate studies.  
Foust in his undergraduate research has used the SEM to study surface textures in 3D-printed materials based on how the samples were manufactured. "If you want to have something slide on a surface, I'm looking at what parameters need to change to reduce friction," he explained.
This research, coupled with hands-on engineering experiences, has set Foust up with a robust resume.
"As a freshman, Dan worked with the Sharon Wastewater Treatment Plant to get direct experience with water management — a key consideration for landing his internship," said Caputo. "Dan has taken advantage of all the equipment available like 3D-printing technologies, our surface analysis apparatus and SEM. It's rare for an undergraduate student to acquire as much extracurricular knowledge as he has in just two years. All the experiences and skills he's worked towards will benefit him greatly in his internship, at University Park and beyond."
Foust said, "This internship is my first step towards a career that couples engineering and agriculture. I can't wait."