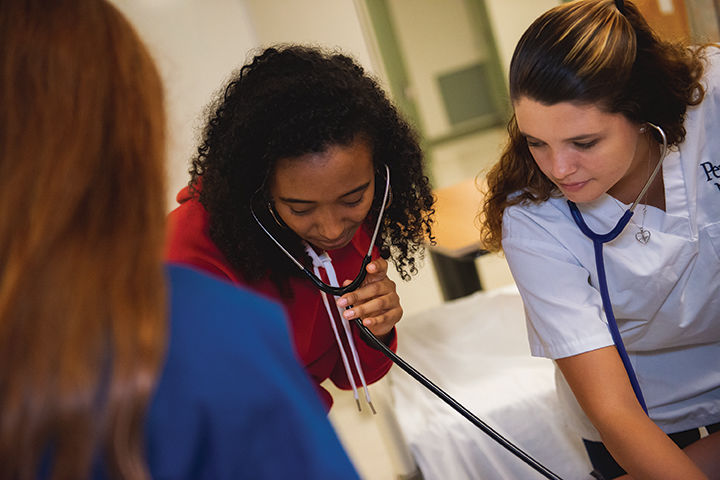 SHARON, Pa. — Accelerated by the COVID-19 pandemic and a retiring workforce, the International Council of Nurses estimates that a global shortage will create demand for up to 13 million nurses. To help close this gap, Penn State Shenango and Sharon Regional Medical Center's School of Nursing have partnered to help prepare the next generation of nurses. 
"Locally, we are seeing nursing students at every level of education have high-paying career opportunities in health care," said Nursing Program Coordinator Maureen Dunn. "If you're interested in the field now is the time to get started."  
Penn State Shenango offers three options in partnership with Sharon Regional's School of Nursing: 
Earning both a registered nurse (R.N.) diploma and a bachelor's of science in nursing (B.S.N.) in four years total
Earning a B.S.N. completion degree for working R.N.s through full- or part-time enrollment 
Providing instruction and Penn State credits for students enroll in Sharon Regional's 2-year R.N. diploma program
"Whether you want to earn your bachelor's degree quickly or get started with a 2-year R.N. license first, we have options for you," said Dunn. 
"I started my nursing career with an R.N. from Sharon Regional's School of Nursing before completing my B.S.N. with Penn State," Dunn continued. "Program instructors have balanced being a working nurse while being in school. We understand the pressures on health care workers and have built curriculums to support flexibility and success."  
As the medical field is continuously evolving, Dunn notes increased demand for bachelor's-prepared nurses as research has discovered lower mortality rates, shorter hospital stays, and lower health care costs are found at medical facilities that hire nurses with a B.S.N. 
"Bachelor's-prepared nurses are already the standard in large cities and magnet hospitals," said Dunn. "Penn State and Sharon Regional are working together to prepare our region for this shift."  
For more information about applying to Penn State Shenango or Sharon Regional Medical Center's School of Nursing, go to shenango.psu.edu/nursingvisit to schedule a personalized visit or to register for Shenango's Spring Open House on Feb. 26.