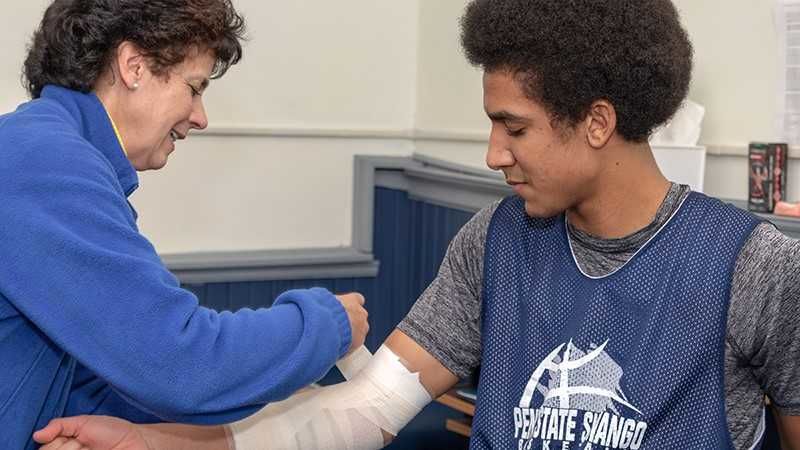 SHARON, Pa. — Sharon Regional Medical Center has teamed up with Penn State Shenango's Athletics program to provide comprehensive athletic training services for the campus' new men's basketball team and women's volleyball team. This past fall, through Sharon Regional's Sports Medicine program, certified athletic trainer Deb Bornes began working with the Penn State Shenango Lions to provide professional services during the Lions' home practices and games.
The one-year, renewable agreement between Sharon Regional and Penn State brings the two entities together for the safety and well-being of the campus's student-athletes. Bornes is responsible for injury prevention, rehabilitation and treatment, as well as other non-life-threatening injuries to the Shenango players.
The need for services was identified and, in the fall of 2017, Penn State Shenango Business and Finance Director Bill Dungee initiated discussions with area providers to offer on-location services to the men's basketball team for the start of their 2018 season. Since then, the Penn State University Athletic Conference has mandated that all the Penn State campuses have an athletic trainer at both practices and games.
"We are pleased to have been selected to provide quality athletic training services as part of the new sports program at Penn State Shenango," stated Joseph Hugar, president of Sharon Regional Medical Center. "Sharon Regional is proud of the long standing relationship we have had with the University to provide quality nursing graduates and this is a great extension of that partnership. We wish them well with the athletic program."
Before finalizing the agreement with Sharon Regional, Dungee talked with other local high schools about athletic training services. The feedback that he received about Sharon Regional's athletic training services, along with his own experience with Sharon Regional while he was the business manager at Farrell High School several years ago, was all positive.
"We already had a great working relationship established with Sharon Regional through our nursing program," said Dungee. "We knew that Sharon Regional was the best fit for our needs and had the infrastructure already in place. We've been very pleased with the job that Deb's been doing with our team thus far and look forward to continuing our relationship with them as we add additional sports to our program."
A separate athletic training room on the second floor of the Buhl Community Recreation Center, which is adjacent to the gymnasium, was renovated by the Shenango campus this past summer and is solely used for Shenango campus athletics.
"Deb has been a great asset to our team these last few months," said Penn State Shenango Athletic Director and Head Men's Basketball Coach Andre Smith. "She has a wealth of experience and will continue to ensure that all student-athletes are healthy and able to perform."