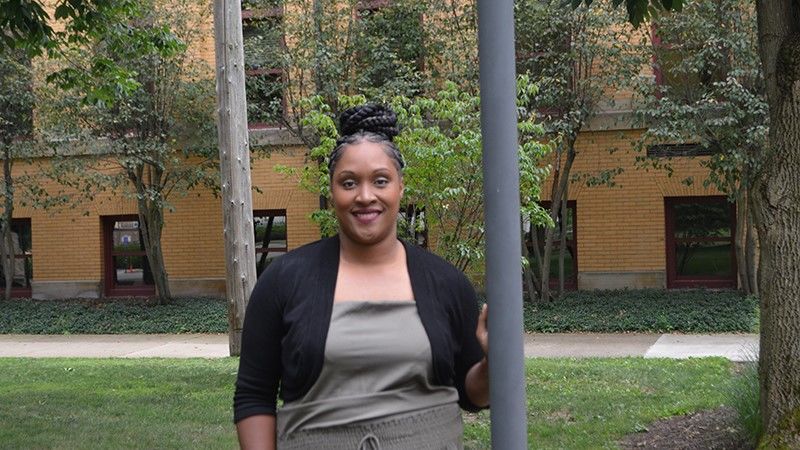 SHARON, Pa. — Penn State Shenango recently hired Rakiesha Morrison, a former Farrell High School cheerleader and Gannon University (GU) competitive cheerleader and dancer, as its new head cheerleading coach. She currently coaches competitive cheer for Fire and Ice Hermitage and is employed at the Mercer County Courthouse in Mercer, Pennsylvania.
"Rakiesha is a great fit for the Penn State Shenango Cheer Program," said Penn State Shenango Athletic Director Andre Smith. "With her local ties to the community and her numerous years of commitment and experience in the cheer world, she will bring a high level of dedication to Penn State Shenango athletics and the student-athletes."
As the current coach of Fire and Ice Hermitage for the last two years and co-director of the Senior 5 Lady Ice squad, Morrison led the ladies to 27th place in the world when they participated in Cheer Worlds in 2019.
"I am truly passionate about this work," said Morrison "I love the sport and the athletes. I'm very excited to bring my experience in cheer and share it with the student-athletes at Penn State Shenango."
During her time at GU in Erie, Morrison worked for a competitive cheer company, Champion Cheer Central, with whom she traveled teaching cheer and tumbling techniques and fundamentals to all-star programs, high schools and colleges across the United States.
Upon leaving GU, Morrison returned to Mercer County where she started and successfully ran the Northwest Allstars Cheer and Dance Program for 10 years. Northwest Allstars, under Morrison's direction, won numerous regional and national titles. She also took her Senior Coed Hip Hop team to the U.S. All Star Federation (USASF) Dance Worlds in 2013 and 2015, where they finished in the top ten both years. Her team, who merged with FCA Gems in 2015, continued to win national titles for the next three years under her leadership.
In 2011, Morrison was the head cheerleading adviser of the Farrell High School squad for three years. In addition to coaching, she has also worked with many nationally ranked high schools, colleges and programs teaching choreography.
Morrison is a USASF credentialed levels 1-6, in stunts, tumbling and tosses. She also works as a certified safety judge for the USASF, along with being ACCAA (American Association of Cheerleading Coaches and Administrators)-certified and CPR/first aid-certified.
Morrison has a bachelor's degree in special education from Youngstown State University. She resides in Sharon with her seven-year-old son, Dwayne.