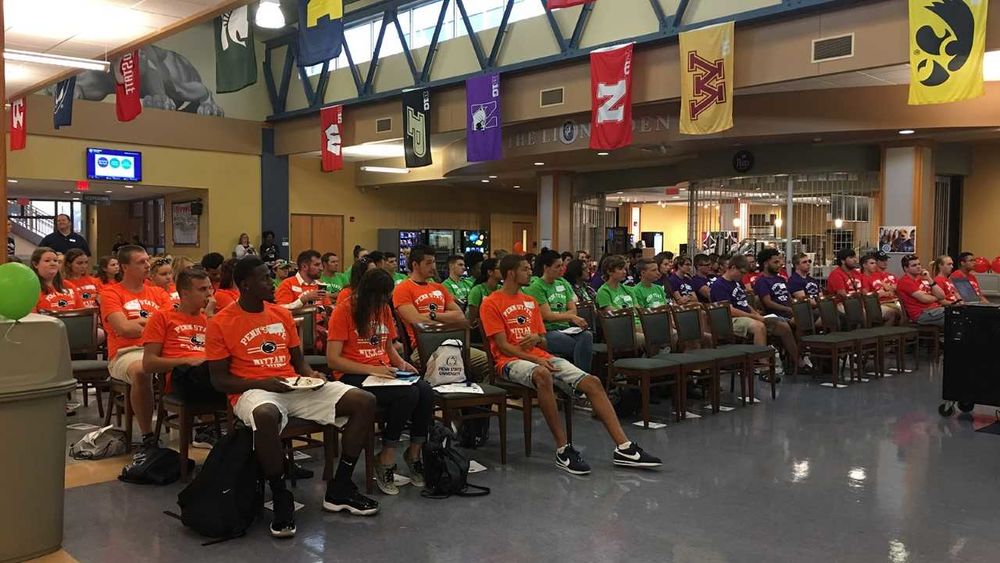 SHARON, Pa. — Penn State Shenango will welcome new and returning students when fall classes resume on Monday, Aug. 20, and the campus begins its 53rd year in the Shenango Valley. Throughout the spring and summer, the Shenango campus has been busy with renovations and new hires for the upcoming semester.
"This is one of the best times of year at our campus," said Jo Anne Carrick, Penn State Shenango campus director. "It's exciting to have our students back for a new semester, and I'm very pleased that I can say that for the sixth year in a row, they will begin a new academic year without an increase in tuition. I'm also very proud of the hard work that our faculty and staff have put in over the summer. We have made some significant upgrades and renovations to our campus, as well as to hire several outstanding new staff and faculty. It's going to be a great year at Shenango!"
Since late spring, the Shenango campus has been working on multiple renovation and beautification projects, including a comprehensive update of its electrical service in its Sharon Hall building, along with the addition of energy-saving LED light fixtures. The installation of a new generator in Sharon Hall to support life safety and to keep the campus' IT infrastructure running in case of a shutdown, as well as repurposing the old generator to be utilized in the Lartz Memorial Library, is continuing and should be completed sometime in September. The improvements to the Buhl Community Recreation Center for the launch of its men's basketball program was also completed this summer.
Most recently, the campus began its Courtyard project to provide an exterior gathering space between the Sharon Hall Auditorium and Great Hall Atrium area. The new area will have improved hardscape with a water feature and programmable LED lighting. Construction on the project is moving quickly and plans are to have the project completed within the next few weeks.
With the addition of the campus' master's in nursing program this past year, the renovation to current classrooms and offices in order to establish a new nursing lab, as well as a faculty office suite, has been an important component to the Shenango campus' facilities upgrades. Over the summer, several additional faculty offices received a "face lift," while an upgrade to one of the campus' technology classrooms, which was funded by the University's Classroom Improvement Grant, has also been completed.
The Shenango campus has hired six full-time faculty members who will begin this fall semester. They are Matthew Caputo, assistant teaching professor in engineering, formerly of Farrell and currently residing in Poland, Ohio; Amy Higgins, lecturer in nursing, Transfer, Pennsylvania; Alice Long, lecturer in human development and family studies, Warren, Ohio; Don McFall, World Campus accounting, Kent, Ohio; Tiffany Petricini, lecturer in communications, Sharon, Pennsylvania; and Kerri Risko, lecturer in nursing, Meadville, Pennsylvania.
Georgia Macris, instructor in business, has officially been named coordinator of Shenango's VenturePointe incubator, which is housed at the eCenter@LindenPointe in Hermitage. Macris will lead the campus' entrepreneurial initiative to expand the engagement of students in all majors and continue to oversee the eAcademy dual-enrollment initiative for the campus.
Two Shenango campus faculty members were promoted by the University this past spring. Jennifer Jewell, who teaches in the campus' physical therapist assistant program, was promoted to the rank of associate teaching professor, and Angela Pettitt, who teaches English, was promoted to assistant teaching professor.
Several new staff members have also joined the Shenango campus, including David Jackson, from Hermitage, who was recently hired as the campus' new student affairs coordinator of student engagement. Jackson was also hired as one of two new assistant men's basketball coaches for the new academic year. The other assistant coach is Geoffrey Evans, also from Hermitage. To round out the new staff hires, Nicki Nych, from West Middlesex, was appointed early this summer as the campus' new head women's volleyball coach and Andrea Hudson from Warren, Ohio, was recently hired as the head cheerleading coach.
For more information on Penn State Shenango, visit shenango.psu.edu.