Project will transform Penn State Shenango's STEM classrooms into state-of-the-art spaces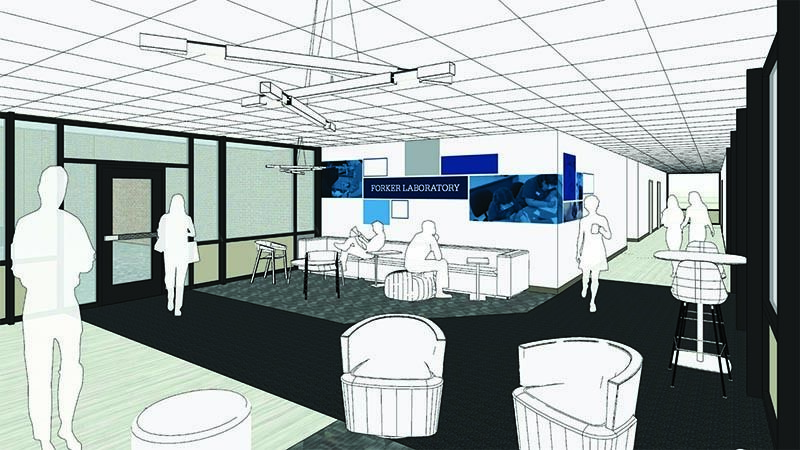 SHARON, Pa. — Construction on Forker Laboratory, one of Penn State Shenango's landmark buildings, has commenced for an $8 million modernization to be completed in time for the 2021 academic year.
Built in 1972, Forker Laboratory is home to faculty offices, classrooms, and laboratories for all STEM and physical therapy courses. The forum — Penn State Shenango's largest classroom — is also housed in Forker.
"Forker Lab is at the heart of our campus, and this renovation will upgrade the building to match the high level that our faculty are already teaching at," said Campus Director Jo Anne Carrick. "This renovation allows us to offer more diverse STEM courses to Valley students. We want to create jobs and keep people employed in the City of Sharon." 
Forker's renovation will include spaces designed for state-of-the-art learning tools, faculty offices will be moved into department-based clusters, an undergraduate research laboratory will be added, and there will be new student lounge and study area.
"We want students to be able to study, complete group work, and relax between classes," said Director of Business and Finance Bill Dungee. "There isn't a space for that now, so we created comfortable areas that allow students to stay in Forker and complete their work."
Renovation highlights include:
Biology

The anatomy and physiology laboratory was designed to easily use life-size human Syndaver models, human bone collection, and Bluetooth-capable physiology electrocardiogram equipment during instruction.
The microbiology laboratory is designed to suit students in nursing or allied health majors for exploration of medical diagnostics used in hospital settings. 

Chemistry

An updated chemistry laboratory layout allows for hands-on learning and problem solving, and a new classroom for organic chemistry.

Engineering

Dedicated space for Penn State Shenango's $1 million scanning electron microscope, 3D printers and 3D scanner, which students use to create learning models.
This project was a successful collaboration between Penn State Shenango's administration and faculty that teach in Forker Laboratory, the Office of the Physical Plant, and BHDP's architects and engineers. Forker's renovation was approved by the Board of Trustees and construction began in late July.
In 2014 Forker Laboratory underwent a $1.8 million upgrade that refreshed the physical therapy classroom and laboratory, ceilings, and paint; and upgraded building systems. Additional building systems will also be upgraded during this year's renovation.
Construction will be phased and classes will be able to continue in Forker Laboratory during the 2020 academic year.