Buhl Center and local campus collaborate on renovations to gymnasium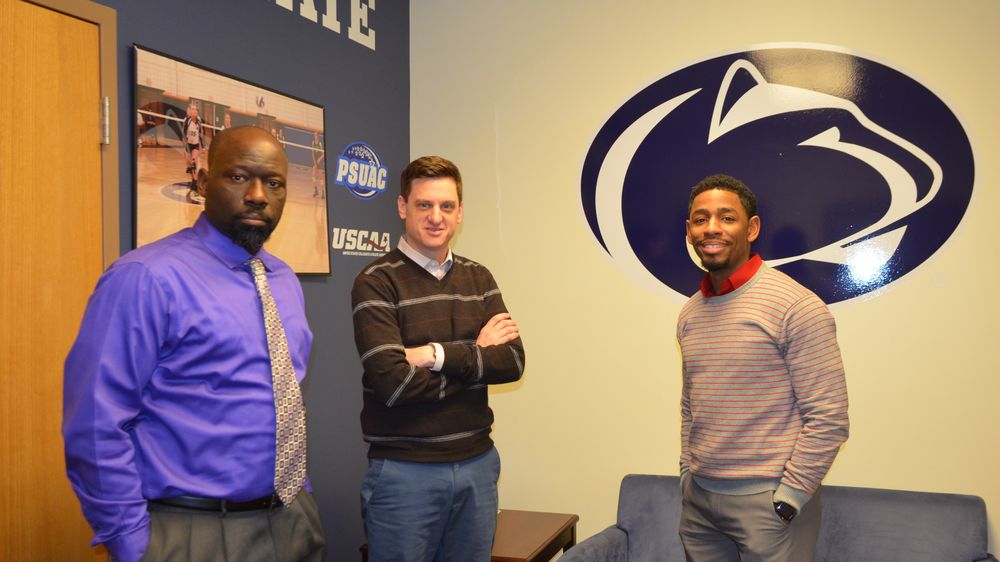 SHARON, Pa. — "It should be a win-win situation for both of us," said Penn State Shenango Business and Finance Director Bill Dungee nearly one year ago. Dungee was referring to the campus's newly reinstated Athletic program and its collaboration with the Buhl Community Recreation Center in Sharon, Pennsylvania.
Dungee and Buhl Community Recreation Center Director Jason Kmick have been working closely over the past two years to re-establish the partnership that spanned over three decades, from the mid-1960s to the mid-1990s. Recently, the campus signed a three-year formal contract with the Buhl Center which outlines Penn State's usage of the facility to host its athletic practices and competitions, specifically its upcoming men's basketball program and future women's volleyball program.
"We couldn't be more pleased with the contract that we've worked out with the Buhl Community Recreation Center," said Dungee. "We have had a great collaboration with them for many years. For the last two decades, however, it has mostly been a mutual agreement between our two institutions, where we have paid for several memberships or hourly rates for the usage of the Buhl Center's gymnasium. This current contract is exclusively for our reinstated athletic program."
As part of the contractual agreement, the Shenango campus will collaborate with the Buhl Center on upgrades and renovations to its gymnasium, which will enhance and improve the facility's aesthetics, including painting and new wall padding, score boards, and backboards. Most notably will be the restoration to the gymnasium floor, which will be stripped, varnished, sealed and trademarked with the Penn State athletic logo. The work on the gymnasium has been approved by the Buhl Center's Board of Trustees to begin May 19 with a completion date of June 8. The campus will host its first men's basketball game in the newly renovated gymnasium on Nov. 10.
"We are very excited about this partnership and playing our part to bring back college athletics to our town," said Kmick. "Bill and his team at Penn State have been great to work with leading up to where we are today...just a few months away from the start of it all. As a part of this partnership, we will be making improvements to our gymnasium that will not only serve Penn State athletics, but will also be accessible to our members and program participants.
"We believe that this is just the start of what promises to be a great partnership between the Buhl Community Recreation Center and Penn State," he added. "We have also discussed the potential to do much more in partnership with the campus including finding ways to engage the entire student body with our facility."
The Shenango campus will also have exclusive use of one of the three men's locker rooms at the Buhl Center, which will be used by both the campus' men's and women's athletes. It is currently being renovated as its "home" locker room and will include new lockers, updates to the current sinks and showers, as well as a new whirlpool and Penn State signage. In addition, the room is being developed as a "team" meeting room and will house a white board for diagramming plays and a television for reviewing game film. Shenango campus maintenance and custodial staff have been busy working on the locker room updates since late winter and plan to be finished by the end of April.
In addition to having access to the gymnasium, Penn State athletes will be provided other amenities, such as entrance to the Buhl Center's fitness and pool areas for sanctioned team workouts.
A separate athletic training room on the second floor of the Buhl Center adjacent to the gymnasium also will be renovated and operated by the Shenango campus. The campus has been working with Sharon Regional Medical Center on future athletic training services, and once an agreement has been signed and a new athletic trainer has been hired, restoration will begin.
"Anytime you have the opportunity to build an athletic program and partner with such a well-rounded, well-respected organization as the Buhl Community Recreation Center, it's a great building block," said Penn State Shenango Athletic Director and Men's Basketball Coach Andre Smith. "This unique partnership will have a positive impact on both Penn State Shenango and the community. There are several new ideas that we can collaborate on to enrich this community. This agreement will also allow local businesses to take part in sponsorships in the gymnasium area. I know all parties are extremely excited about the future as we move forward."