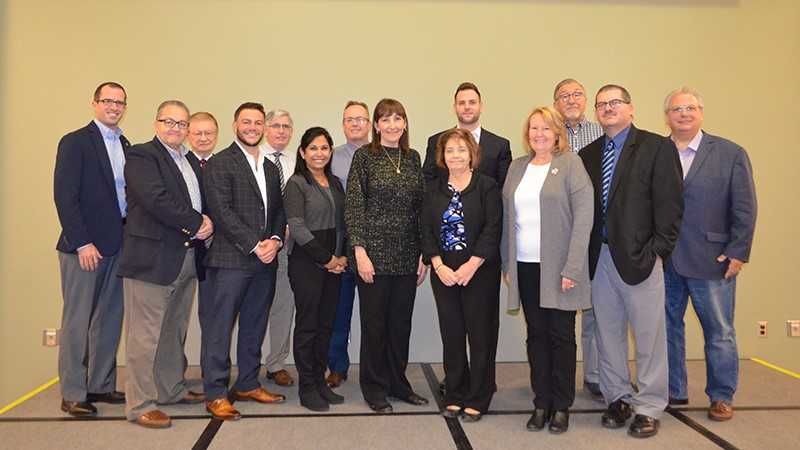 SHARON, Pa. — The Penn State Shenango Advisory Board and the Penn State Shenango Alumni Society have announced the creation of an Open Doors Scholarship at Penn State Shenango.
Their combined donation of $30,000 is part of the University-wide campaign, "A Greater Penn State for 21st Century Excellence," and will leverage a 2:1 University match, increasing the fund to $90,000. The scholarship is part of the University's Complete Penn State initiative targeting students facing financial hardships and risk of not completing a degree program.
A strong collaboration between the two Penn State Shenango boards has existed for many years, and while the current presidents — Sam Bernstine (Advisory Board) and Carl Sizer (Alumni Society) currently reside on both boards, there is a very close working relationship among the members. With the creation of the scholarship program and the match opportunity, both presidents and board members agreed to establish an endowment which would generate scholarship funds in perpetuity for Shenango students.
"We are very appreciative of our advisory and alumni boards for their most recent, generous donation and their strong commitment to our students," said Director of Development and Alumni Relations Allison Engstrom. "When the University proposed a 2:1 match with the creation of an Open Doors Scholarship, both boards were quick to raise the necessary funds in order to endow this scholarship."
Bernstine took the lead in unifying plans to establish the new scholarship by meeting with current and emeritus advisory board members. For years, the Shenango Advisory Board hosted the well-known campus event, the Fund Feast — an annual fundraiser which raised well over $200,000 for the Shenango campus. Bernstine saw this as a good opportunity to engage new board members and continue the tradition of giving as a board.
"Today's world is full of healthy competition, but cooperation and collaboration are sometimes lost in the true spirit of competition," said Bernstine. "This is never the case at Penn State Shenango, where the joint efforts of the Penn State Shenango Advisory Board members teamed up with the Penn State Shenango Alumni Society Board members to help provide our Shenango students with the financial resources they need to help them achieve a college degree. At Penn State Shenango we spell the word TEAM with a significant phrase because all of Nittany Nation knows that 'Together Everyone Achieves More!'"
Since its inception back in the 1990s, the Shenango Alumni Society has supported student scholarships at the local campus. With the start of Penn State's new capital campaign, the board of more than 20 Penn State alumni decided that they would collaborate in establishing not just one, but two, Open Doors Scholarship endowments — first collaborating with the College Club of Sharon, and then, connecting with the Shenango Advisory Board.
"This partnership truly illustrates the power of the Penn State network," said Sizer. "Collaborating with the Shenango Advisory Board sends a clear message to our campus community and the University that Shenango's boards are passionate about scholarships that help to keep the expense of college manageable for our students. The TEAM approach to this endowment made all the difference."
"A Greater Penn State for 21st Century Excellence" is a focused campaign that seeks to elevate Penn State's position as a leading public university in a world defined by rapid change and global connections. With the support of alumni and friends, "A Greater Penn State" seeks to fulfill the three key imperatives of a 21st-century public university: keeping the doors to higher education open to hardworking students regardless of financial well-being; creating transformative experiences that go beyond the classroom; and impacting the world by fueling discovery, innovation and entrepreneurship. To learn more about "A Greater Penn State for 21st Century Excellence," visit greaterpennstate.psu.edu.
About the Penn State Shenango Advisory Board
Each Commonwealth campus of Penn State has an advisory board consisting of distinguished representatives from a range of constituencies that collectively represent the communities served by that campus. Their role is advisory rather than policy-making or managerial, but their guidance is essential as the campus strives to serve the community effectively. The board members are selected for their interest in and commitment to Penn State in general and the specific campus in particular, their professional expertise, their understanding of higher education and of community needs, their commitment to student growth and economic development, and their willingness to help the campus director develop and sustain ways of helping the campus meet its mission.
About the Penn State Shenango Alumni Society
The Penn State Shenango Alumni Society is an affiliate group of the Penn State Alumni Association. It includes members from Western Pennsylvania and Eastern Ohio and aims to connect individuals who have a shared passion, pride and loyalty for Penn State. The group focuses on interacting with alumni and current students through events, fundraising and networking activities, as well as increasing its scholarship endowments.