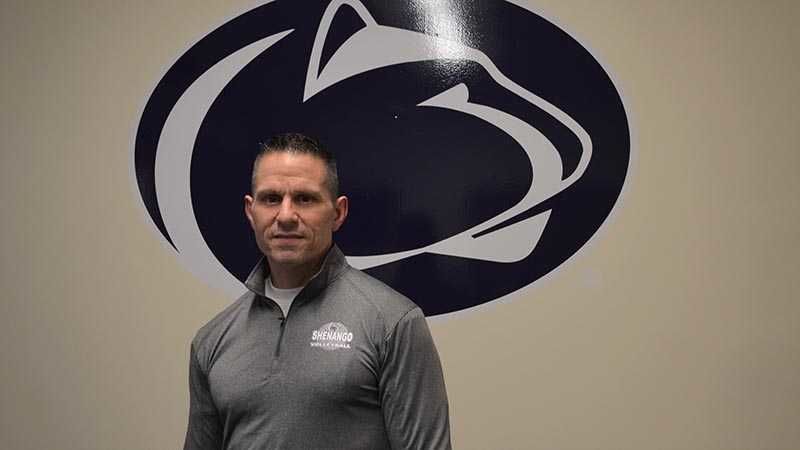 SHARON, Pa. — Andrew Frank's involvement with Penn State Shenango comes full circle 35-plus years after he first arrived on campus in the early 1980s as a student and then as a volunteer coach for women's athletics. Frank, a native of Farrell, will return to Shenango as the assistant women's volleyball coach for the team's inaugural season this fall.
"Andrew was my first thought as an assistant," said Penn State Shenango Women's Volleyball Coach Niki Nych. "When he accepted my offer, I was ecstatic to say the least. I believe we have similar coaching styles and will make a great team. I am excited to bring him on board and look forward to making Penn State Shenango volleyball a success."
Humbly accepting the position, Frank resigned from a successful eight-year run as the head coach of the competitive PIAA District 7-Western Pennsylvania Interscholastic Athletic League (WPIAL) Neshannock Township School District Volleyball Program after rebuilding the middle and high school programs. He brings that same enthusiasm and experience to newly appointed head coach Nicole Nych, supporting her vision for Penn State Shenango's inaugural 2019 volleyball season.
Frank's 103/38 win-loss record in eight years brought Neshannock to such successes as their first section championship in school history, capturing that title three times under his tenure, as well as making two appearances in the PIAA state tournament—again, a first in school history. The program has ranked in the top 16 teams in the WPIAL each year since he started with the program, making it to the final four twice. Along with these accomplishments, he also coached volleyball at the Farrell Area School District; Austintown Fitch, in their inaugural two years; as well as founded and coached with the Top Spin Volleyball Club in New Castle, Pennsylvania. Frank has interacted with coaches and players spanning the Ohio Valley and Keystone Regions of USA Volleyball, as well as gained the respect of coaches and administration throughout the WPIAL.
As a young athlete growing up in Farrell in a highly competitive cauldron of exemplary athletes, Frank had the unique opportunity to learn the nuances of the game of volleyball from the best. He excelled and went on to eventually play club volleyball at Penn State, and now, after 25 years, continues to coach and play competitively regionally and nationally with his team in the USA Volleyball (USAV) Senior Nationals and the State and National Senior Games. Frank brings with him to the Shenango campus a love of the game, a passion for coaching the sport, and the desire to encourage a hard work ethic to meet the challenges required to pursue the highest levels of successful competition.
As a continuing member of the AVCA (American Volleyball Coaches Association) and the PVCA (Pennsylvania Volleyball Coaches Association), Frank attends national conferences and coaching seminars to stay on the cutting edge of coaching principles and philosophies from the best in the collegiate and national volleyball coaching world.
A longtime Penn State fan, Frank has the support of his family and friends as he embarks on the next step in his volleyball coaching career at Penn State Shenango. He lives in Neshannock Township with his wife and two children. He hopes to bring wisdom, instill sound life values, and a healthy competitive spirit to the players, and their families, as they enter the collegiate volleyball arena.
For more information about Penn State Shenango athletics, including its upcoming volleyball season, contact Athletic Director Andre Smith at 724-983-2801 or Head Volleyball Coach Niki Nych at 724-983-2888.