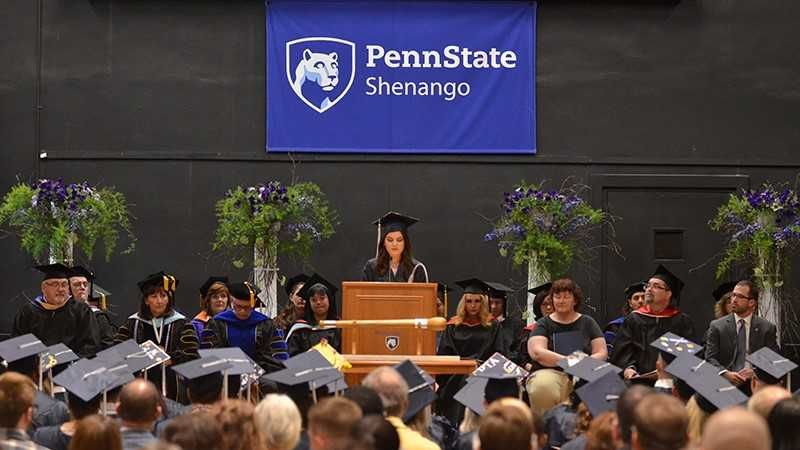 SHARON, Pa. — Penn State Shenango Advisory Board member and retired Superintendent of Mohawk School District Kathleen Kwolek will give the commencement address at the 2018 Penn State Shenango Fall Commencement Ceremony at 11:30 a.m. on Saturday, Dec. 15, in the Shenango campus Auditorium. Jo Anne Carrick, campus director and chief academic officer, will confer baccalaureate and associate degrees on the graduating students.
Kwolek graduated from Penn State with a bachelor's degree in secondary education, certified to teach chemistry and math. She taught chemistry in the Mohawk Area School District for 25 years.
During her tenure at Mohawk, Kwolek advocated for the expansion of the district's science curriculum. She proceeded to implement a second-year chemistry course in which students could attain four college credits from the University of Pittsburgh, followed by the addition of a third-year chemistry course. This course became Mohawk's first Advancement Placement offering.
As a lifelong learner, Kwolek continued her education with the completion of a master's degree in chemistry from Youngstown State University, certifications as a principal and Director of Curriculum and Instruction from the University of Pittsburgh, the Superintendent's Letter of Eligibility from Westminster College, and a doctorate in educational leadership from Youngstown State University.
Following completion of these additional certifications, Kwolek began her administrative tenure, holding the positions of curriculum director, assistant superintendent, and then, superintendent. She was and still is a strong proponent of the public school systems, fueled by the belief that students from any school, regardless of district size, can successfully pursue their goals if they are provided strong curricular options in high school.
Since retiring in 2015, Kwolek has remained active by serving as a program reviewer for the PA Department of Education, as well as an interim principal in a county Career and Technical Center. In addition, she returned to the classroom to obtain National Certification as an EMT.
This year's graduating student address will be given by Shauna Phillips of Sharpsville, Pennsylvania. The Sharpsville High School graduate will be receiving her bachelor of science degree in nursing. She received her registered nurse license (RN) from Jameson Memorial School of Nursing in New Castle, Pennsylvania. Phillips currently works at UPMC Jameson and at Sharon Regional Medical Center in Sharon.
During her time at the Shenango campus, Phillips was involved with the THON Club and the Student Government Association, where she held the position as secretary. She also was active as a Lion Leader, a member of the Lion Ambassadors, and attended two of the campus's Alternative Spring Break (ASB) trips.
The fall commencement ceremony will conclude with the induction of the graduates into the Penn State Alumni Society by Shenango Alumni Society President Carl Aaron Sizer III.
For more information about this year's commencement ceremony, please contact the Registrar's Office at 724-983-2856.