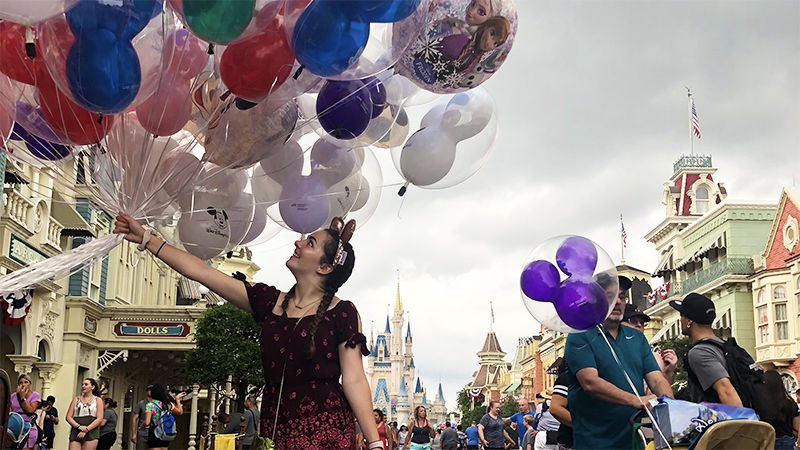 Anyone who has ever been to Disney World knows what a magical place it can be, and for three Penn State Shenango students who were accepted into the Disney College Program their experience was truly a dream come true.
Only acquaintances, Shenango campus students Sabrina Breese, Shaughnesy Clark, and Jasmine Day, all of whom come from different areas and are in different degree programs, decided to apply to the Disney College Program in Orlando, Florida, approximately one year ago. The process to apply for these coveted internships takes time and patience, but the three young women were prepared to do what they needed in order to be chosen.
Each of them had their own reasons for wanting to complete the Disney College Program—Breese had been to Disney World when she was 16 years old with the Lakeview High School Choir, Clark was part of Disney's 2015 Christmas Parade where she cheered for the National Cheerleader Association, and Day had been researching Disney World since she was in high school. The three students all loved what they knew about Disney World and wanted to be part of the Disney College Program. With the help of Penn State Shenango Career Counselor Heidi Friedrich, they completed their resumes, sent in their applications, and anxiously awaited news from Disney.
Breese, a graduate of Lakeview High School, currently resides in Brookfield, Ohio. As a letters, arts, and science major with a business/communication focus and an international studies certificate, Breese was not required to complete an internship for her degree program; however, in addition to loving Disney, she also recognized that an experience like the Disney College Program would provide her with opportunities and responsibilities that would ultimately be beneficial in her future career.
"I did a lot of preparation before even applying for the Disney College Program," said Breese. "After I applied, I received a call to take a personality test and then had a phone interview. Several days later, I was notified that I had been accepted into the program. It was quite exciting!"
Clark graduated from Greenville High School. After transferring from another local university, she began taking courses toward a degree in one of Shenango's health-related fields. Through career counseling, however, she discovered that she had a strong interest in business and retail, so she switched her major to business with a focus in marketing in management. Clark now resides in Florida where she is enrolled in Penn State's World Campus.
"It's hard to know what you want to do before you are even 20 years old," said Clark. "So I worked with Heidi [Friedrich] and discovered that I really liked business. As a sophomore in the campus' Business program, I wasn't yet required to complete an internship. However, the Disney College Program was something I personally wanted to do and hoped that it would open up doors for me, which it literally has! I am hoping to get a professional internship with Disney in the future!"
Day graduated from Farrell High School and came to Penn State Shenango as a transfer student. During her first year at the Shenango campus, she took additional pre-requisite nursing courses toward her registered nursing certificate. She is currently enrolled in Sharon Regional's School of Nursing Program.
"Applying for the Disney College Program was not in my immediate plans, since I am studying to be a nurse," said Day. "However, I ended up a semester ahead in my current nursing program, so I saw it as a perfect opportunity to complete the Disney College Program. And since it was the fall semester, I knew I'd be able to experience all the holidays at Disney World!"
This past spring and summer, the students packed their bags and headed to sunny Florida to begin their adventures at Disney World Orlando. Each of the students began the Disney College Program sometime between May and August, and all completed the program this past January. When they arrived in Disney, the students did not know exactly where they would be working, but they did know it would be in one of Disney's four major theme parks—Magic Kingdom, Animal Kingdom, Epcot, or Hollywood Studios.
"When I was placed in Dino Land, which is part of Disney's Animal Kingdom, I wasn't sure what to expect," said Breese. "My job was mainly to sell merchandise, and most days I had my own cart and wore different themed outfits. I loved the independence of my position, but the best part of it was making people happy. It was an incredible experience!"
Disney's College Program provides each student with enough hours of employment in order to pay their rent, buy groceries, and have some extra spending money. In addition to work, the students receive many free benefits through the internship program, including free admission to all Disney theme and water parks, discounts on other Orlando parks, special character meet and greets, as well as career development workshops.
"We were offered housing by Disney, similar to college dorm apartments," said Clark. "The cost of the rent was very reasonable. We also could work extra hours to earn additional money, which I took advantage of. I also attended a lot of the workshops they offered."
While Breese worked in Animal Kingdom, Clark and Day were both placed in Magic Kingdom on Main Street USA, where Clark worked in "quick service" at The Plaza Ice Cream Parlor and Day was a "seater" at Be Our Guest Restaurant.
"In addition to scooping ice cream and interacting with guests, I was a trainer—responsible for educating new employees or 'Cast Members,'" said Clark. "I had to know the layout of the entire park and be a role model even during off hours. But I loved every part of my job—couldn't imagine working in a better place!"
All three students were asked to stay on at the completion of their internship program. And while Breese and Day hope to someday return to Disney, both decided to return to Pennsylvania to complete their degrees locally.
"I made great friends and have so many memories that will last a lifetime," said Day. "I will never forget my time working at Disney and have a greater respect for the people that work there every day to make magic happen."
Breese continued, "I was offered an extension to stay on until May, as well, but I declined so that I could complete my degree back at the Shenango campus. Someday, however, I'd like to go back to complete a professional internship at Disney. I'm really happy that I got my foot in the door for future opportunities."
For Clark, her Disney experience hasn't ended, and possibly, in some ways, has just begun. In addition to applying to extend her college program through this May, she also applied for a part-time position, which, if hired, would allow her to apply for Disney's Aspire Program after 90 days. As part of the Aspire Program, an employee's college tuition at certain Florida universities is paid for by Disney.
On Christmas Eve of this year, Clark was notified that she was hired part-time at The Plaza Restaurant on Main Street USA!
"Finding out that I got hired at Disney was the best Christmas present I could get," said Clark. "As soon as I meet my 90 days, which is on April 5, I plan to apply for Disney's Aspire Program. I found my place here at Disney, and I hope to continue utilizing the opportunities that I am given."
Although Breese, Clark, and Day each worked in different areas of Disney and had slightly different experiences, the one resounding similarity in all of their experiences was that they loved what they did—making people happy while working in one of the most magical places on earth!