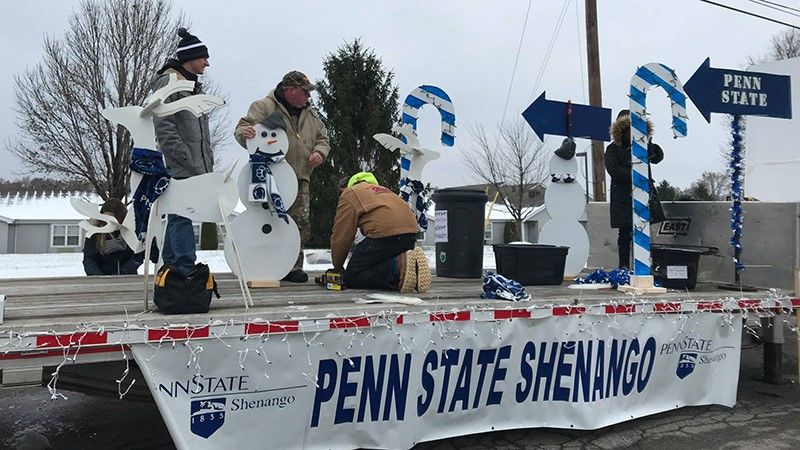 SHARON, Pa. — At this year's Hermitage Light Up Night Parade, to be held on Saturday, Nov. 23, Penn State Shenango faculty, staff and students will be teaming up with the Community Food Warehouse of Mercer County (CFWMC) to support the organization's annual food drive collection.
According to Penn State Shenango's float chairperson, Taylor Cole, the CFWMC contacted her to see if they could collaborate with the Shenango campus on its float this year.
"I was so excited when the Community Food Warehouse reached out and expressed interest in collaborating with us for this year's float," said Cole. "We have always been strong supporters of the Community Food Warehouse and couldn't think of a better agency to partner up with during this time of year of giving back. Our collection focus this year will all be on non-perishable food items for the Food Warehouse."
The CFWMC is a member of Feeding America, the nation's network of food banks. The mission of the Food Warehouse is to provide supplemental food to those who are hungry and to raise awareness of hunger throughout Mercer County. CFWMC is the primary source of supplemental food assistance in Mercer County. Through its 32 member agencies, CFWMC serves over 4,200 households.
"We are really excited to partner with Penn State Shenango in our 16th year at the Hermitage Light Up Night parade," added Sarah Worthington, volunteer/program coordinator at CFWMC. "Many people still like to bring non-perishable food items to the parade for collection, and we're happy to have the help from the faculty, staff and students. An added bonus is the food drive they are hosting in conjunction with the parade collection. This will go a long way to helping feed the needy families, children, seniors and veterans during this holiday season."
Non-perishable food donations will be accepted at the Shenango campus in the Academic and Career Planning Services Office, Sharon Hall room 201, located on Penn Avenue in downtown Sharon, Pennsylvania, through Dec. 11. For more information, call the Shenango Academic Services Office at 724-983-2860 or visit the CFWMC website at www.foodwarehouse.org.