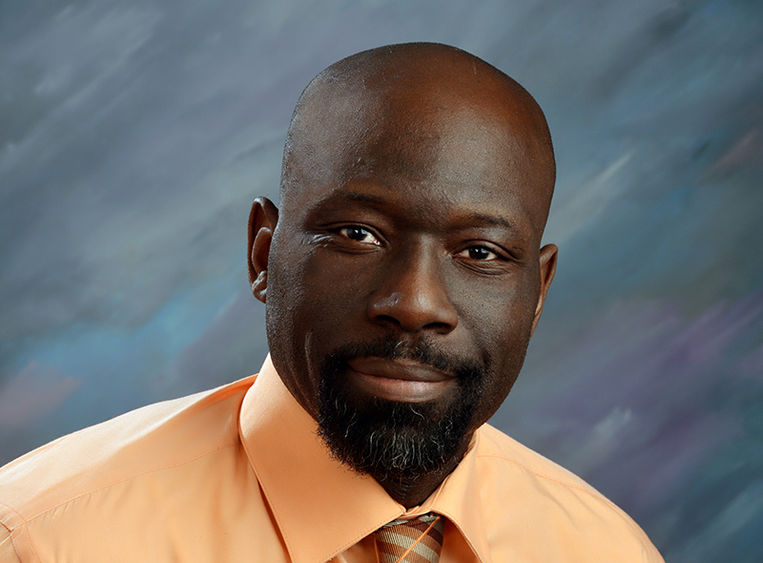 Andre Smith, a former Youngstown State University (YSU) basketball standout and assistant basketball coach, has accepted the position as coordinator of athletic programs and recruitment and head basketball coach at Penn State Shenango. The former player and coach from YSU spent his first day, April 5, on campus meeting with administration and staff to discuss his position as head of the campus' newly reinstated athletic program.
Smith most recently was employed at Lourdes University in Sylvania, Ohio, where he was the athletic director and head men's basketball coach. He brings 12 years of higher education experience in admissions and multi-cultural affairs, as well as 15 years of collegiate head coaching and assistant coaching experience, to his new position. Smith also had four years' experience as head coach in the international professional ranks.
Smith's strong community ties span Ohio and into Pennsylvania. From 2006 through 2009, he was the associate head men's basketball coach at Thiel College in Greenville, Pennsylvania, where he had eight PAC All-Conference Selections, five All-Academic Performers, and a PAC 1st Team, Pre-Season Division III All-American Candidate. Prior to his position leading the Tomcats men's basketball team, Smith was the associate head women's basketball coach from 2004 to 2006.
Smith understands what it takes to start, or in Penn State Shenango's case, restart, an athletic program from scratch.
"I see this position almost as a spitting image of the Lourdes position," said Smith. "Except at Lourdes, they never had an athletic program as the Shenango campus once did. My first item on my agenda is to get to know the current students, faculty and staff. Then, I want to get out into the community, meet with people, school administration, coaches, and athletes, before the end of the school year. What I'm excited about is that this area has some great athletes who I would love to work with. They come from hard working families who really care about their kids and their education."
In addition to his responsibility as coordinator of athletics, which encompasses recruitment and the infrastructure of a successful athletic program, Smith will also be responsible for coaching the men's basketball team, as well as assisting with the hiring of a women's volleyball coach. Both programs will begin in the fall of 2018.
"I'm eager to get started," said Smith. "Over this summer, besides continuing to meet with prospective students and their parents, I'll be spending time with Jason Kmick at the Buhl Club in Sharon, where we will be playing our home games; meeting with Penn State administration to go over policies and regulations; and writing some of my own guidelines and procedures for our incoming athletes."
Establishing a successful athletic program from the ground up and, subsequently, growing Lourdes athletic program to 16 teams over a seven-year span, was extremely appealing to the Shenango campus' hiring committee.
"When we posted the position for our new athletic coordinator, we were looking for a dynamic individual to lead the strategic initiative of the reinstatement of athletics at our campus," said Director of Business and Finance Bill Dungee. "For almost three decades, Penn State Shenango was known for its outstanding athletic program, so we were hoping to have a great pool of applicants – and we did. We received over 50 applications from all over the United States, as well as abroad. With Andre's experience as a coach and recruiter, his strong ties to our area, including Youngstown, and his success in starting an athletic program from scratch, we couldn't be more pleased with our decision."
Although Smith's first objective is to go out and recruit local talent, he also plans to travel and recruit from the Pittsburgh, Cleveland, and Erie markets for good athletes who want to play Division III ball. Currently, Penn State Shenango does not have official housing; however, there has been some informal interest regarding private-owned housing for potential athletes.
"I have a lot of connections locally but also clear into Cleveland, Erie, and Pittsburgh," said Smith. "When I first went to Lourdes, they only had started to purchase housing, so I understand that may be a concern at first; however, we will look at all our options. My main objective is to get kids here who want a good education, want to play the game, and be part of a team. My father always said that it takes key ingredients to make kids productive citizens, and I feel discipline and respect are the key to success. Our athletes will be involved in our community doing meaningful volunteer work, so that they can be proud of themselves and their peers will look up to them."
Smith graduated from Youngtown State University in Youngstown, Ohio, with a bachelor of science degree in education. He has an associate of science degree in recreation from Lakeland Community College in Mattoon, Illinois. He resides in Youngstown with his family.