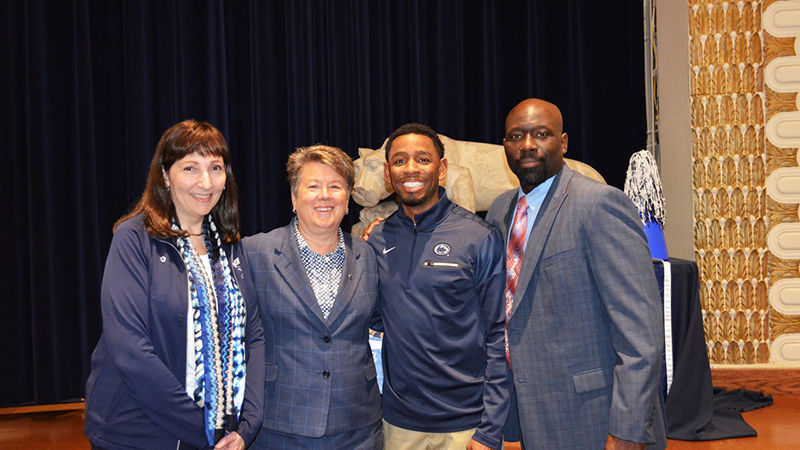 Penn State Shenango officially announced the reinstatement of its athletic program at the 2017 Penn State Shenango Alumni Society Meet and Greet event on April 12 featuring Penn State Director of Athletics Sandy Barbour as its keynote speaker.
In less than 18 months, the Shenango campus' once successful men's basketball and women's volleyball programs will be in full swing, and the campus couldn't be more excited.
"Intercollegiate athletics is an important part of college life," said Penn State Shenango Campus Director Jo Anne Carrick. "We are thrilled for our current and future students, as it will enhance the overall experience they will have at the Shenango campus."
A plan to re-establish the athletic program at Penn State Shenango began approximately two years ago when the campus underwent a finance redesign that included strategic initiatives to positively impact enrollment. An exploratory task force made up of staff, faculty, students, community members, and advisory and alumni board members, began gathering data and information about feasibility, operating costs, facilities, and a return on investment.
"When we began this process, we had to ask ourselves, 'Why reestablish athletics at the Shenango campus?'" continued Carrick. "What we came up with were some very solid reasons, including the fact that student-athletes graduate at rates higher than other college students; the pride that intercollegiate athletics would bring to our current student body; the opportunities of travel and learning life skills that our student-athletes would encounter; and ultimately, the increase it would bring to our student enrollment."
Once the Shenango campus was ready to move forward, the task force presented its proposal to the Commonwealth Campuses Athletics Administrator Maureen Cooper, as well as the Vice President for Commonwealth Campuses and Executive Chancellor Madlyn Hanes, for their approval. After many discussions and meetings, in the fall of 2016, the Shenango campus was given the green light to reinstate athletics.
Penn State Shenango will be part of the Penn State University Athletic Conference (PSUAC), and will be nationally affiliated with the United States Collegiate Athletic Association (USCAA). The decision to choose men's basketball and women's volleyball was that those two sports must be part of a campus' athletic program under the PSUAC rules. In addition to the 13 campus conference members, the Shenango schedule will include other local colleges and universities.
The Shenango campus has not had an athletic program since the mid- to late-90s when the campus still had its gymnasium — prior to the Sharon and Lecture Hall major renovations in 2005. However, the campus has long utilized the F.H. Buhl Recreational Center for its indoor athletic programs. The campus plans to continue collaborating with the Buhl Center, which is less than one mile from the campus.
"I've been working with the executive director of the Buhl Center, Jason Kmick, to discuss how we can continue to collaborate with them and utilize their facility," said Director of Business and Finance Bill Dungee. "Their fitness center was a big plus when we were looking at where we would host our games. It should be a win win situation for both of us."
Additional sports will be considered by the campus as it builds its athletic program and will depend on its newest hire, Coordinator of Athletics Program and Recruitment and Men's Basketball Coach Andre Smith, who will be helping to make some of those decisions. Smith, a former Youngstown State University player and assistant basketball coach, was the previous athletic director at Lourdes University in Sylvania, Oh., where he was also the head men's basketball coach.
"The similarity of Penn State Shenango and my last position at Lourdes University is uncanny," said Smith. "At Lourdes University, I started their athletic program from the ground up. We had no housing at the beginning, and most of our students were studying nursing. Before I left, we had 16 varsity teams. My plan at Shenango is to make the men's basketball team, which I will also be coaching, and our women's volleyball team, strong and competitive. When the time is right, and we have the interest and students to add additional sports to our program, we'll be ready."
Penn State Shenango's men's basketball and women's volleyball programs will begin fall 2018. For more information, contact Penn State Shenango Coordinator of Athletics Program Andre Smith at 724-983-2801.